Trading cards are meant to be ephemeral collectibles. They're made of paper, produced cheaply, and generally, hold very little value. It's this lack of utility that's pretty fascinating, so I've often found myself digging pretty deep into the who, what, and why of trading card sets. If they're pretty much defined by their uselessness, why do they exist, and why do I want them?
Superficially, 1992's Pro Cheerleaders : Football Edition trading cards by Lime Rock are a vehicle by which to ogle cheerleaders from four very specific NFL teams: the Saintsations Dance Team, the Raiderettes (Football's Fabulous Females), and the far less-creatively-named Dallas Cowboys and Miami Dolphins Cheerleaders. While there had been a few cheerleader-specific card sets before, 1992 was kind of a landmark year for cheerleader cards, since it was also the inaugural year for Bench Warmer International, the company that would become the most visible name in salacious sports-related model cards. Many copycats followed, and not for nothing, but Bench Warmer International's wikipedia page reads as if it were edited by a really angry ex, and it's wasn't too long before the whole card series descended from bikinis to nearly pornography.
I've written a whole lot about model cards of the '90s; some of these cards blatantly use fake names, repeating the same model across multiple cards with fake fantasy profiles and new names for each. But some use the models' real first names as a vehicle towards these hopefuls launching their careers, and it's not too difficult to trace tiny threads and hints on their cards to their social media profiles today – in the least creepiest way possible. It's nice to find out that people who were roommates in the '90s are still Facebook friends. Mostly, people who appeared on 90s "model cards" don't post them to their Facebook pages. It's a really great way to practice being Internet Batman, which is pretty much my favorite activity. If you want someone to prove they can research anything, hand them a trading card of a 90s model and tell them to find out that model's dog's name. It can be done.
Then there's Pro Cheerleaders, which are terribly honest, and sometimes, that's terribly sad. Height, weight, birthdays. It's all there.
Patti, a former Miami Dolphins cheerleader, had a Masters in sports management in 1992. By 2018, she'd added an additional last name through marriage, moved to Colorado, had two kids, and works at a credit union. There's no obvious mention of her professional cheerleading past.
Kimberlee, from the Raiderettes, planned on working for an escrow company. By 2018, she'd also changed her last name and developed a holistic insect repellant for horses. Kimberlee proudly displays a photo her her with the LA Rams cheerleaders on her Facebook page, as well as pictures of horses.
Drzan Ashford, later McBee, the six-foot-tall Raiderette who appeared in David Lee Roth's 'A Lil' Ain't Enough' video, was focusing on her psych doctorate. She passed away in 2003 after complications from surgery, at the age of 37.
This is where you feel like you get punched in the gut. Each one of these cards is a life, in summary, at one moment in time. They express history and hope in the space of a few inches. It's not like baseball cards, which feature wealthy athletes who always take center stage, whose lives are exhaustively documented. These people are literally sidelined, kinda just passing through.
In 1992, Carmen had been working for Carnival Cruises for 11 years already. She still works for a cruise line today.
While Krista was with the Miami Dolphins cheerleaders, they'd sent in a tape for Bob Saget of America's Funniest Home Videos. She's now married and links to homophobic "causes" on her Facebook page.
Anjanette Abayari, once Miss Philippines, went on to star in 1994's Darna: The Return, a superhero film, before she was busted for drugs in 1999 (though the drugs were allegedly her sister's) and kicked out of the Philippines until 2003. She maintains an official fan page.
The set is numbered very oddly, starting at #42, and the cards themselves don't even all seem professionally shot, but there are still about 150 stories here, like the lady who closed her dance academy, joined a collapsing pyramid scheme, and then moved on to sell overly expensive skin supplements. That's a story, even if you have absolutely no interest in sports or even cheerleaders.
Dorie Braddy, later Grogan, moved on from the Dallas Cowboys to the Miami Dolphins, where in 2016, she was accused of allegedly belittling, humiliating and antagonizing a cheerleader on her team because of said cheerleader's virginity.
It's a rabbit hole that you can lose yourself in for hours, if you're addicted to fancy Google-fu. For a $10 box of cards, that's not too bad. My conclusion from this stack of weird 1992 cards that few people care about is this: every human being on this planet, living and dead, should have a trading card. Creators, congresspeople, bus drivers, snake handlers, whoever. It doesn't even much matter about where they are in their lives; a single snapshot and a few lines of text is a poor summary of a life, but those spiderweb-thin threads spin out in every direction. Online profiles change constantly and get buried and lost. Nearly every human being from this point onwards will be documented on the Internet, in some form or another, in this infinite, ephemeral place. By comparison, a disposable trading card is a concrete, real, un-ephemeral thing. And isn't it a nice idea to have at least one solid, tangible thing to represent who you are, have been, and might be, in a place where people feel less and less human?
I think so.
---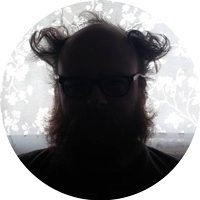 C. David
is a writer and artist living in the Hudson Valley, NY. He loves pinball, Wazmo Nariz, Rem Lezar, MODOK, pogs, Ultra Monsters, 80s horror, and is secretly very enthusiastic about everything else not listed here.