During the simpler days of 5th grade, Star Trek: The Next Generation was the best thing on TV, and it burrowed deep into my brain. That turned into my very first collection, Playmates' Star Trek action figures, and it also translated into reading every Trek book I could find. And that became a love for Harlan Ellison (the notoriously mistreated author of "City at the Edge of Forever"), and Michael Moorcock, and all manner of science fiction. Stacks of vintage sci-fi paperbacks now overwhelm my book shelves, and many weekends are spent exploring library book sales for more. And that love naturally extended to sci-fi book covers. This love was clearly shared by the creator of Sperry Mini Mags trading cards.
Sperry Marketing and Manufacturing, formerly of Fairburn, Georgia, had many different irons in the fire in the late 80s and early 90s. They filed a trademark for the EZ Wax Wiper (a car polish removing cloth) in 1988, and the Kwik-over (a type of table cover) in 1990. They filed at least three more trademarks under that business name, stretching into 2003, including one for a product to store jigsaw puzzles you weren't done working on yet, but you needed the dinner table for, you know, dinner.
Sperry's later patents show them moving from Georgia to Venice, Florida, where you can still find them today on a quiet-looking little stretch of businesses called Corporation Way, sandwiched between a carpet shop and an upholstery store. They still sell decorative vinyl table coverings, and maintain an AOL email address, but once, they made a set of great trading cards. But the set is an outlier to everything else they manufactured…. so, why?
Sperry Mini Mags promised to be an ongoing series of trading cards that would feature the covers of many different genres of magazines : sports, news, movies, and sci-fi among them. Each pack of 7 cards, contrary to the usual "blind" approach of most trading cards, was packaged in a clear wrapper, making it easier to find cards you didn't yet have. On the front of each is an excellent reproduction of a vintage pulp cover, and on the back of each is a blurb from the matching sci-fi story, or some incredible black and white art from the era. Each card is an excellent choice; whoever assembled this set of cards had an eye for art and a genuine interest in science fiction.
But this set of 100 cards (plus one error card) was the only set that happened. The box, a bold yellow with a drawing of an alien reading a magazine on it, is the work of someone who cared. So, trying to find out exactly what happened, I contacted the company.
Steve Perry is 70 years old, as of 2019, and the very simple story behind the origins of Mini Mags is that he was impressed by the book covers at an Atlanta book store. And because they had lapsed out of copyright, they were a rich vein of excellent art just ready to tap into and share. In 1992, bear in mind, it wasn't quite as easy to share images as it is today. Anyone who's struggled through the stuttering of a 56k modem knows that even finding a single, high-resolution image could cripple the better part of an afternoon.
10,000 sets of these cards were produced; 4000 were sold as complete, collated sets, and the rest were sold in packs of 7 cards each. (Mr. Perry still has about 1000 sets in his possession.) Unfortunately, the trading card boom of the early '90s essentially crushed dozens of smaller trading card sets; it became much harder to be heard through the noise of Benchwarmer and the third or fourth series of Marvel Universe. A second set of Classic Pulps was photographed and ready to go, but because the first set didn't get as much traction as it could have, it was cancelled, as were sets that would have covered early Popular Mechanics and National Enquirer covers. 'Classic Pulps' even beat Starlog at their own game; they released a set of trading cards featuring their own covers a year later, and these are way cooler.
Today, over 25 years later, trading card printing has never been simpler, and 'Classic Pulps II' lingers in the background, an unfinished project that's all but ready to go. But where do these belong in your collection?
Each card is a gateway into a bigger world, simply because Sperry included so much information on each one. Great efforts have been made to credit every artist and every author on these, which seems unusual today, in an era where media is shared online without anyone actually knowing where anything actually came from. Small apertures into greater bodies of work that may have been forgotten over time, like the name of a creator on the back of a trading card, are important. A name like Virgil Finlay isn't heard too often anymore; he died in 1971 and they stopped collecting his work in books in 1994, but his work is masterful. The same can be said for the other authors and artists in this set, and it's all details that could otherwise be a bit tricky to find. Things that spur interest and inquisitiveness are the most important things in the world, and there's a whole lost world of classic sci-fi and pulp writing that doesn't get a whole lot of attention today. In 1992, these were trying to keep those things alive, in a collectible, convenient, and informative way. Good job, Sperry.
---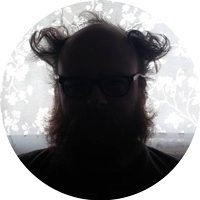 C. David
is a writer and artist living in the Hudson Valley, NY. He loves pinball, Wazmo Nariz, Rem Lezar, MODOK, pogs, Ultra Monsters, 80s horror, and is secretly very enthusiastic about everything else not listed here.