Quarantine is slowly creeping to an end. The world may not be totally safe, but it's finally safe enough for anyone who's been vaccinated, and digging through record crates again is just around the corner. But what do you do when you still have a thousand records at home still waiting to be listened to?
I've made the mistake of grabbing just about everything even remotely interesting I've seen for free or cheap in the last 20 years, so there's no better way to sort this than to just grab the top ten on the pile and suffer through them all, one at a time, without the option to just pass one over unless it's something I've heard before. Maybe it's a kind of punishment I'm inflicting upon myself for record collecting gluttony, but fortunately, more often than not, these records generally have at least one saving element, whether it's a great song, or some connection to art or history that's really exciting to explore.
The rules?
Listen to them one at a time.
Catalog them on Discogs.
Tell the world why these matter, or don't.
Here's part two of a whole bunch of things you may not have heard of before. [Read part one]
---
Noel Harrison
The Great Electric Experiment Is Over
[1969]
Noel Harrison, the son of actor Rex Harrison, released 7 studio albums in his lifetime. He also starred in a number of TV shows and movies, and even spent some time as an Olympic skier, so the guy just did whatever he felt like, all of the time, for like 80 years, which is totally a 'Noel' thing to do. In 1969, he released this folksy album, the title song of which is not a reaction to Bob Dylan at the Newport Folk Festival in 1965, but sort of post-apocalyptic ode to nature reclaiming a world messed up by humans, much like The Talking Heads' '[Nothing But] Flowers'. It's a good title song, and one of two originals by Harrison on the album, which is mostly "la la la" kinda-twee covers of Dylan, Joni Mitchell, and similar artists. I'm surprised that Noel Harrison and Sondre Lerche aren't mentioned in the same breath more often.
He's having a good time, and he's an adept musician with a gentle voice and the pacing of a storyteller. If you like gentle folk that kinda sounds early Beatles at their most boppy, here's Noel Harrison for you. He's like the 13th Beatle or something, probably.
Keep or toss? "I want to keep this on principle," says the girlfriend, who is very into exploring this era of music. As long as it's out of my office, that's great.
---
Michael Franks
Sleeping Gypsy
[1977]
Michael Franks is a pioneer of a smooth jazz genre called 'Quiet Storm', and there's never been a more appropriately evocative name for a type of music. Sleeping Gypsy is his second released album, and his first on Warner Bros, who scouted and signed him after his first record on Reprise (which also explains his sweater on the back, emblazoned with a huge WB logo). It's smoother than a velvet-covered bowling alley, and it's easy to by cynical about something so gentle and without edges, holy gosh is it infectious. It's a lazy Sunday afternoon without consequences. After listening to it once, I listened to it three more times. 'The Lady Wants to Know' is an outstanding bossanova-tinged intro track for the album, and the slowly lilting electric guitar sliding all around the background gives it all a really dreamy feel.
The guy is worshipped as a god in quiet storm circles. It's a step much cooler than 'Adult Contemporary' in many ways, and it's a sound that lots of really hip indie bands desperately strive for. Go right to the sweet source. If you like the outstanding band Crumb, you might like this too. Listen to these songs back to back and you might find the thread.
Keep or toss? After the first 30 seconds of the first track, I was prepared to not take this seriously, but now I'm in love. I may be one of the last people in the world to find this, but I'm glad I did. Keeping it.
---
Bottle Hill
Light Our Way Along the Highway
[1976]
Another exceptional bluegrass surprise pulled from the old piles, despite the cover looking like this might have been a psychedelic rock or hip hop album. From the moment the album began with the original 'Morning Light', with a deep and lilting bass line, I was struck. The cover of The Beatles' 'For No One' is emotive and powerful. It's witty, fun, and pushes the boundaries of what one might perceive as 'bluegrass', incorporating moments of electric guitar and other instruments outside the usual sphere of the genre. Despite only producing two albums, they're big enough to have a pretty thorough entry on Allmusic.
The collection I'm digging through must have been someone who collected local folk and bluegrass actively, because this album was recorded in Rensselaer, NY, in the Hudson Valley; Rensselaer County is also the home of the ironically-named Hoosick Falls, where local residents were slowly poisoned for years by a local teflon producer, with no end to the water crisis in sight. It's a nice place to visit, but not a place to buy a home. Local history aside, it's great to find another local band in this stack. This album has never made it to CD, and you can't even find their music on YouTube, so it was worth making a personal digital copy to listen to. It's just one example of something that most people will probably never even have the opportunity to hear due to how inaccessible this is, and that's why digging through crates is a valuable exercise.
Keep or toss? Keep, absolutely. It's great music, it's weird, and it's worth recognizing.
---
Sara Cleveland (of Brant Lake, New York)
Ballads and Songs of the Upper Hudson Valley
[1968]
While Sarah Brant may be from Brant Lake in the upper Hudson Valley, these songs aren't exactly from the Hudson Valley. Rather, they are traditional songs that have found their way to the Hudson Valley via the conduit of Sara Cleveland, and in 1968, she was apparently a well-known local personality, so Folk-Legacy Records sought her out in their ongoing efforts to preserve folk music of all types. There's no doubt that it's an important endeavor; folk songs are easily lost to time for a hundred different reasons; the songs are highly localized and obscure, folk singers are aging and losing their memories, and lots of folk music is never written down. It's a genuinely imporrtant historical effort, and many people have dedicated their lives to it. It's really the original form of trying to save and discover 'lost media', and that's kind of incredible.
The album's liner notes say, "She doesn't really care whether or not you think she's a good singer." And the album definitely feels like sitting in a room while your grandma with a pretty good voice sings you songs she heard when she was a kid, because that's pretty much exactly what this is. Sara Cleveland passed away in 1992, and as recently as 2016, her documents were still regarded as critical to understanding local folk music. They were donated to a library in Glens Falls, NY. Like those documents, this album is an artifact more than it is an album to really listen to over and over.
Keep or toss? This isn't my thing, but I'll be passing this along to my girlfriend, who is super into NY history.
---
The Stylistics
Let's Put It All Together
[1974]
Not an obscure record in any way, Let's Put It All Together reached #14 on the US Billboard charts. It's falsetto Philadelphia soul that you've probably heard on your local adult contemporary station.
My favorite cassette for a certain period growing up was The California Raisins' Sweet Delicious & Marvelous. I don't know if I just liked the animated specials, or if I just liked the idea of raisins singing songs, or if the music was just energetic and accessible, but I have lots of memories of dancing around to 'I Got You' and 'Never Can Say Goodbye'. This is far milder, but I likely picked it up for the cover anyhow, which is a work by Doug Johnson.
I've been trying to figure out if this is one of those covers that hides all of the track titles in the art, like The Gazillions Have Landed, or the back cover of Jethro Tull's War Child. All I can really interpret is an image of a melting clock on a hand for 'I Got Time On My Hands', but I have no idea what the cat, fish, and unicorn mean. Doug Johnson is an artist that any music fan will recognize, having done covers for Judas Priest and Ike & Tina Turner. Or maybe you'll recognize his insane Cosmic Candy packaging paintings.
Keep or toss? Unless I'm going to keep this for the cover, this is going somewhere else. It's easily replaceable, it's not my favorite genre of music, and it's not something I want to carry when we move. It's led me down the path of learning more about Doug Johnson, so it's done its job.
---
L.T.D.
Something to Love
[1977]
Spaced-out funk covers are so common that it's easy to just not even notice them, but the running theme is really pretty awesome. Something To Love is one of those albums that looks very close to what it sounds like. 'Age of the Showdown' opens the album with a whole lot of semi-sci-fi funk about the end of the world, with angels battling demons, both actual and metaphorical. '(Every Time I Turn Around) Back In Love Again' is just the best possible version of energetic, positive funk. You know that California Raisins energy I was talking about above? This is it.
Funky spacemen are just about the greatest thing ever, and while you shouldn't judge a record by its cover, these are probably a safe bet.
Keep or toss? Keep. It's not an uncommon record, but I put it on repeat, and even though it doesn't fit into any particular collection, it's just really good stuff.
---
Dave Frishberg
Oklahoma Toad
[1970]
This is Dave Frishberg's first album, and even if you've never heard of him, you've heard 'I'm Just a Bill', which he wrote for Schoolhouse Rock (with Jack Sheldon, notable musician and Star Trek guest star on vocals). The cover would lead you to expect something bluegrass, but Frishberg is a wildly clever pianist who was writing Ben Folds songs while Ben was just 4 years old. Any one of these songs could have been performed by Ben Folds Five in the 90s and it would be a seamless experience. The bossa nova 'Van Lingle Mungo', which is just a long list of weird baseball player names, gives you a pretty good idea of Frishberg's sense of humor.
Recently, Frishberg has encountered a litany of undisclosed medical issues, so a GoFundMe has been set up to help him afford the tremendously corrupt and backwards American healthcare system. I plan on painting on some Van Lingle Mungo baseball cards, since I paint on them regularly anyhow, and the complete proceeds will go to Mr. Frishberg.
Keep or toss? The record is worth about $25, which is above average for records in general, but not only does this fit into the collection of good music, but it also fits into the 'albums with big animal faces' collection.
---
Bent Fabric
Alley Cat
[1962]
… except I've never been so tempted to exclude something from my collection as with Alley Cat by Bent Fabric. In fact, his first four albums in the US all have that same animal theme. I enjoy piano, and all forms of jazz no matter the age, but this just feels like the most generic player piano stuff out there. Half of the songs are just the guy playing one key at a time like he's allergic to chords or something. This won awards in the '60s? It's upbeat and inoffensive, like something you'd hear in the background of a cartoon, or shopping for carrots in an atomic age grocery store, but without the fun.
Keep or toss? Moving this one along to someone else's collection. You can't keep 'em all, and not only does this have no value, but it's also something I'll never listen to again.
---
Thomas Dolby
The Golden Age of Wireless
[1983 reissue]
Somehow, even though New Wave is my favorite genre, I never made it around to Thomas Dolby, aside from the obvious hit, 'She Blinded Me With Science', which is the lead song on this album. The world of Dolby always felt impossibly dense; he's a businessman who created the "Nokia tune", an interactive online video game, and he recorded a whole album in an old renewable-energy-powered lifeboat called the "Nutmeg of Consolation".
There's nothing new I can say about this, which is pretty well regarded as a quintessential New Wave album; there are a few different releases with different tracklistings, so it's worth keeping an eye out for different versions.
Keep or toss? Dolby only released only 5 studio albums under his own name (and a ton of side projects), but this one charted the highest in the US. It's kind of a vital part of a New Wave collection, he has some intersections with the great Lene Lovich, so it's a keep for a lot of reasons.
---
Kirk Whalum
Floppy Disk
[1985]
Perhaps one of the best album covers of all times when it comes to "describe the 80s in one picture", Floppy Disk is a collection of songs you almost definitely heard on the weather channel or shopping for jeans. Mr. Whalum has won Grammies for his excessively smooth jazz. If you like to feel the kind of calm that can only overtake you at the sweet release of death, here you go.
But there's an exception; the title track (not written by Whalum) is so exceptionally unexpected and strange that it qualifies as an experience. I don't even really want to spoil the surprise. Unfortunately, it's not available to listen to easily, but it takes cues from the same place as Jyl : it's the 80s, and computers are the best thing in the world.
Keep or toss? I was going to get rid of this, but there are three small reasons that add up to reason enough : an incredible cover, one really bizarre song, and the idea that you can put this on at a party and confuse the heck out of everyone there.
---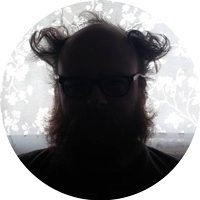 C. David
is a writer and artist living in the Hudson Valley, NY. He loves pinball, Wazmo Nariz, Rem Lezar, MODOK, pogs, Ultra Monsters, 80s horror, and is secretly very enthusiastic about everything else not listed here.