There are record collectors, and there are music enthusiasts, and there are large areas in that Venn diagram that just don't meet. But in that special place in the middle is where people fall in love with music that's never found its way onto a more convenient or modern format, and that's where some really amazing stuff hides, even forty enormous, eventful years later.
Chicago New Wave artist Wazmo Nariz deserved better. Wazmo, the stage name of the leader of the hugely talented Wazband, released Things Aren't Right in 1979 on Illegal Records, and Tell Me How To Live two years later on Big Records. Three singles were released in 1979, wandering onto Stiff Records and Fiction records, and a final single, five years after Wazmo's second and final LP, appeared in 1986 on Big Time. And that's it. That's all that history has recorded. There should have been more.
It's a music career that seems, on its surface, to span two or three years and a straggling single, starring a bombastic, operatic man who wore two neckties, and who just kinda disappeared without reaching the career notoriety that him and his band really deserved. Wazmo's crazy voice control is next level; the music is fun and intelligent. You'll find comparisons to contemporaries like DEVO, Lene Lovich, or even Oingo Boingo (who came years later), but they're not really accurate. Sure, the Wazband opened for XTC, DEVO, and The Police, but they were something different. So where did it all go?
It's not hard to collect Wazmo's entire discography on vinyl, but you have to know it exists. Discovering their first record at a Goodwill long ago was a revelation for me as a record collector and fan of unique music. Only the final single, 'Yahoo Eeee!', and 'Checking Out the Checkout Girl' ever made it to music steaming services, so it seems like the only real way to find Wazmo in today's digital world is by accident. The latter single made it onto Jimmy Fallon in 2017, as a song to not listen to. Even though the video's comments beg to differ, Wazmo's profile didn't really increase measurably as a result. [In a wonderful case of the oroborous of the internet, band member Jeff Hill's Facebook profile picture was, for a time, the album cover of another musician chosen by Fallon to 'not listen to'.]
Wazmo artifacts are poorly documented and difficult to collect. He recorded a song called 'Kramtorn Avenges the Puttbundles' and 'Bring Out That Really Big Umbrella' for the 1988 Married to the Mob soundtrack, but despite being mentioned in some movie reviews, the original songs never made it to the soundtrack album. Waz performed 'The Plumber' in the 1984 movie Cheeseball Presents, and showed up the movie Stewardess School (at about 42 minutes in). He also showed up in a Sega-CD video game called Kids on Site as Nuts, an ill-fated construction worker. He popped up in a Domino's Pizza commercial, a Sega commercial, and a bunch of other 90s classics that seem to be lost today. A few more songs were recorded later, popped up on Facebook, and vanished. And then, nothing.
Band members Jeff Hill and Jeff Boynton keep Wazmo alive on an infrequently-updated Facebook page. A fake Twitter page, spewing some weirdly hateful stuff, inexplicably popped up a while back and now lies dormant. It was all there was about Wazmo around; I spent about 8 years, though, looking for Wazmo himself, Lawrence Grennan, because I wanted to know more about this thing I loved that seemed to exist between the pages of the music history books.
Part of that process involved buying a cassette tape I found on eBay that was just labeled 'Wazmo Nariz Live', having no idea what was actually on it. It was a small miracle that the tape, although a bit wobbly and having all of the qualities of an audience recording, as well as a ham radio blaring through the amps, actually had a half dozen really cool songs that had never been recorded in a studio. With the help of Boynton and Hill, still active on their Facebook page, we were able to pinpoint the venue, and name all of the lost songs. I had found a treasure.
But what about Wazmo himself? Was the disappointment of not making it huge so crushing that he vanished, or was this just a small and interesting part of a life that was still otherwise totally fulfilling? More than anything, this is what felt important.
It was largely by coincidence that I found him. Or he found me. I'd messaged someone on Instagram who'd posted a photo of a Wazmo record, just totally enthused that anyone else loved the band as much as me. I asked where he'd found out about the band. As it turned out, he discovered the band through his friend, the actual Larry Grennan – who, as it turns out, is a truly nice guy, and extremely patient about going over the minutae of almost a decade of my built-up questions.
---
Wazmo's versatile, operatic voice is a product of his choral training and performances throughout his youth, which, in his own words, 'damaged' his rock voice. A college media major didn't easily materialize into a copy writing job, but the miseries of a thankless job at a lamp manufacturer, a general love of music, and specifically the Talking Heads' debut album 77, was enough to spur Mr. Grennan into recording a 9-song demo at the studio of a former college roommate : Cary Baker's Castle Recording in Lake Geneva, WI. From those sessions came the first single on Fiction Records: 'Tele-Tele-Telephone' and 'Gadabout'. It was enough to get Stiff Records' attention. After that, things got serious.
"I began to feel some pressure to have a physical band to support the record. I got together with a great bass player I knew, once again from college, Kieth DeBolt. I played him the demo and showed him the 45 and asked if he wanted to be in the band. He said yes, and he knew a really great drummer we should go see. So he and I went to see Bruce Zelesnik. In the basement of his parent's home in Gurnee, IL we played him the demo and showed him the record and he agreed to be in the band. I remember asking Kieth as we drove away from the meeting if Bruce really wanted to do this. He didn't seem very excited to me. 'Are you kidding?' Kieth asked. 'That's as excited as Bruce gets!'"
Bruce knew guitarist Jeff Hill and keyboardist Jeff Boynton, the latter of whom Grennan also coincidentally recognized from college.

"Those were magical days filled with promise and excitement. Everyone was super gung ho about the band. They'd all stopped whatever it was they'd been doing to go into rehearsing on a nightly basis."
But despite the band's inventive music, and opening for popular New Wave bands as they passed through Chicago, they were ultimately failed by the record labels that represented them. Checks fronted for recording costs bounced, fees accrued, and Wazmo never attained the momentum that a label should have provided. Today, Mr. Grennan remarks that the band was "a financial disaster". Maybe the labels just didn't know how to handle songs named after appliances and local businesses, but today, it's very clear that it's not the music that was lacking. Though Mr. Grennan disagrees.
"In general, I do not feel fulfilled with the music I released. A couple tracks come close, Touchy Feely People, Al's Radiator and Yahoo Eeeeee!. But the vast majority, I'd rather not listen to. If only because I played/sang them so many times. But its more than that. For one thing, I had this idea at the time that a record should sound as close to the live performance as possible. What was I thinking? They're two completely different platforms and should be approached with each one's unique possibilities in mind."
The band played a final gig on New Year's Eve in 1981, at Tut's in Chicago, where they saw an immense amount of popularity, seconded only to late-'70s/early-'80s NYC. The two songs recorded are the only known footage of the band performing (outside of an earlier music video for 'Iron-On Courage'), though YouTube comments indicate that there may be more hidden out there.
---
Today, band member Jeff Boynton is a guru of the circuit bending scene, creating wonderfully weird instruments out of electronics and light and sensation. Jeff Hill has released a solo album and will occasionally sneak out a lost Wazmo song on his YouTube channel. Bruce Zelesnik passed away in 2018, after spending more time playing with Stan Ridgway, and Wazmo's Facebook page posted an excellent, previously unreleased tribute song to him. Kieth DeBolt founded Choosing to Soar and wrote a motivational self-help book.
Midway through a life doing a really diverse array of jobs, from working at a lamp store to appearing in TV commercials and video games, to opening for DEVO, Lawrence Grennan is a luthier, building guitars in Los Angeles. Now, he's more of a student of music, finding deeper appreciation for the guitar greats like Heitor Villa-Lobos and Francisco Tarrega, but formally recording more music isn't really on the table. Not surprisingly, gone almost forty years are the days of the Wazmo who strapped on two neckties and gyrated across the floor of the stage in a fit of undulating, ululating energy. Today's Wazmo, should he ever choose to formally record again, would be (in his words) "Wazmo meets easy listening", and having sampled some of that, one can't help but hope beyond hope that we still might one day get one more Wazmo record, somehow, somewhere.
---
"So, why Wazmo Nariz? Well, I really didn't think anybody would want to hear music from some guy named Larry Grennan. Fine name for a folk singer, I guess. But it just didn't seem to fit with point of view I was trying to create and get across. I wanted something that was slightly "out there" sounding, and bigger than life. So, one night I just made Wazmo up in my kitchen. And after that, I used to say, Nariz was child's play."
---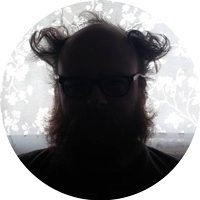 C. David
is a writer and artist living in the Hudson Valley, NY. He loves pinball, Wazmo Nariz, Rem Lezar, MODOK, pogs, Ultra Monsters, 80s horror, and is secretly very enthusiastic about everything else not listed here.