It's been a long year of Covid. If there was even the smallest chance that close contact with other people could cause their illness or death, it was worth it to forgo our usual activities of weird diners and Goodwill shopping. Even though it felt like the whole world was churning, dying, and repeating, all in some careless circus of selfishness, we stayed inside except for trips to get essentials. And to be honest, we're interesting enough people to stay entertained with our own stuff, and eBay is a pretty okay substitute for going into stores. You might miss out on a few small toys, but if you have even the slightest sliver of a brain and interest in something, it wasn't hard to pivot and commit to something else for a little while.
At the beginning of the pandemic, I ordered large boxes of used, blank VHS tapes, and one by one, watched each one in search of oddities and lost moments. I catalogued what I found on YouTube. I drew a lot. It felt normal. I also dug through about 500 or so records I'd collected, most of which I never listened to. Weird covers from tag sales, library donations that ended up in the trash, and other stuff that found its way into my collection and I'd just not gotten around to appreciating yet. With incredible discoveries like Wazmo Nariz and Rudi Vannelli lurking in the crates, I was pretty excited to discover things that had been there all along, all without leaving the house. And deal with all of the trash. Here are the first 10, pulled straight from the top of the pile of unknowns.
---
Myron Cohen
Everybody Gotta Be Someplace
[1966]
I don't think I completely understand the comedy of Myron Cohen, but I'm not his audience, mostly because I wasn't born in the early 1900s. In addition to being credited as a comedian, Cohen is also called a 'raconteur', which is another way to say that he tells long, charming, dry stories with a funny twist at the end. It's generally twists that have been so overused by now that they've become tropes, but they were probably original and surprising during the time when Cohen was using them. Decades of comedians and bad sitcoms have likely soured most modern audiences to what Cohen is delivering, and comedic Yiddish accents don't really have the same ring as they once did. Definitely of the Ed Sullivan era of comedy, this is almost definitely something that Bobby Hill would take inspiration from. There's nothing wrong with it at all, but the cover is more entertaining than the album – even though Cohen is definitely not the sad, droopy dog he appears to be in this picture.
Keep or toss? Oy! We're sending this one on a journey to someone else's collection, so they too can hear 5 different routines about matzah balls. Or maybe I'll just re-paint the cover so Myron is a bedraggled Batman, and toss the record. It's a pretty common one.
---
White Light
s/t
[1970]
I have no idea where White Light came from, but trying to figure it out was a deep dive. It's a weird, sludgy collection of songs that listeners have classified as 'hard psychedelic', with completely unexpected turns to doo-wop for the heck of it. It sounds like it was recorded in a garage by a trio of kids, because it probably was. It's pure and strange and honest in its limitations, and it feels like a comfortable basement. A highlight is 'Crashin", which sounds like it could easily be an early Devo song about coming down off of some kind of hallucinogenic space drug. 'Baby What Do You Want Me To Do' is basically The Beatles' 'For You Blue' at half speed and played from the bottom of a swimming pool, released around the same time as the latter. There's something cool here.
The album was probably released in 1970, according to the runout groove date, which reads June 29, 1970. This first release, numbered 39955, has a rainbow label, and is credited to Vanita Record Productions and Century Records. The album was re-released, probably in 1972; the repress record's runout groove gives a date of October 29, 1971, and a comment on the album's Discogs page from Debbie, the ex-wife of musician Gary 'Mississippi' Abrams, confirms a 1972 release. After that, it becomes difficult to search out much about this album, because digging deep for 'white heat' comes back with mostly results relating to The Velvet Underground's 1968 album White Light/White Heat. It's no coincidence; side 2 of White Light starts with a cover of Lou Reed's 'I'm Waiting For the Man', from The Velvet Underground's first album.
Except there are two very different LPs released with the same title and cover, each using a different track listing, and even a few different songs entirely. A second version, known as 40136, has re-ordered tracks, some retitled, and a couple left off completely. The missing songs, 'VDFM' and 'Crashin", would eventually find their way onto 1973's Velvet Sandpaper, as recorded by Mississippi, so maybe it was as simple as reorganizing stuff for that second album. That album also includes a song called 'Debbie', named for his ex-wife.
The copy of the LP I discovered deepens the mystery even more, because it's a mix of both versions of the album : 40136 slipped inside of 39955's cover. A complete copy of 40136 sold in June 2020 for $350, so even though my copy is scuffed up and plays with one obnoxious skip, I wanted to find out more. The back of the sleeve was marked; the name Kurt Perron was circled, and 'Bobby n Wanda Always' was also written on the back, which gives me the impression that this was owned by someone who knew Kurt, and maybe this transitional copy was given to them.
Gary Abrams became a psychologist in California, as evidenced by the liner notes on the back of Velvet Sandpaper, and he may or may not have run into some serious legal trouble in 1999 for billing practices. I discovered a La Mirada psychologist with the same name, so I wrote him a letter, but never heard back. Eventually, I found a YouTube video of one of their songs where Joel Perron had posted a comment, so I reached out, but also never heard back. The mystery of White Light persists, but at the very least, it's a really cool, hidden album, and I'm not the only one who thinks so; it had a CD re-release in more contemporary times.
Keep or toss? Despite the skip, this one is worth keeping. It's too weird and cool, and it's just about the perfect album to listen to on vinyl.
---
Lois Skiera-Zucek
Halloween Fun
[1988]
It's kind of impossible to resist a good, cheesy Halloween album, even just for the covers, and holy heck are there a lot of spooky albums to find. This one came from the discarded collection of the Kingston, NY library, since most libraries just don't have the room to give records a good home anymore. It's a miracle that any record could survive the ravages of patrons anyhow, when books come back with actual bites taken out of the pages.
Most Halloween albums for kids skew towards sing-songy, sing-alongy, happy songs about black cats and pumpkins, and there are a few cool songs hidden among the filler if you're lucky. Halloween Fun has a few greats, like 'Scary, Scary Halloween' and 'The Halloween Song', both minor key instant classics. A few covers of classic ghostly songs, like a vocal-less (except for the shouted, titular chorus) Ghostbusters theme, the theme from The Alfred Hitchcock Hour and the omnipresent 'Monster Mash' don't add much here or reinvent the originals, but the trick-or-treating safety lessons shoehorned into some strange places in here make it pretty quirky in a good way.
Lois Skiera-Zucek recorded more albums about Native Americans, environmentalism, sea creatures, and even another one about Halloween. 'Skeleton Bones', from the second Halloween album, is an mf'n JAM. It's made it onto my regular playlist. This LP is good enough that I'd want to hear more of what she has to say. And I'm just a little in love with the weird aliens on the cover here.
Keep or toss? This one is going straight into the Halloween collection. It's a hoot. And records for kids are becoming increasingly collectible.
---
George Russell Sextet
The Outer View
[1962]
Post-bop is the most obtuse of all types of jazz. It's music for musicians, and if you're not familiar with music theory, or at least experimented with other jazz as a gateway drug, post-bop will probably kill you. But if you just let it happen, and acknowledge that all of the discordant bursts of sound and changes of tempo are actually the most intentional, carefully-considered jazz out there, it's good stuff. George Russell literally wrote the book on whatever obtuse, wonderful thing this is doing; it's called Lydian Chromatic Concept Of Tonal Organization, and the average person will probably never understand it. That's okay!
This one found its way into the collection without a cover, very likely rescued from a dumpster somewhere. It's a shame it's incomplete, because a nice copy on the Riverside label would sell for $25. There really isn't too much that I could say here that would be even remotely intelligent when it comes to understanding and appreciating George Russell, but it's both painterly, and kinda like watching something familiar get deconstructed. It's a hamburger, but served as steak tartare on one plate, with freeze-fried ketchup on another plate, and a pickle suspended in a brine vapor on another. One listen to this version of 'You Are My Sunshine' and you'll get it. If that excites, you, this is the album for you.
Keep or toss? Without a cover, this one doesn't really have a place in my collection.
---
De Dannan
A Jacket of Batteries
[1988]
De Dannan, also known as De Danann for reasons they've never explained, is an Irish folk group, and they go hard into the traditional fiddle, step-dancing stuff. It's fine, and probably super to spin once a year to keep the St. Patrick's Day leprechauns at bay, but unless you're trying to lose yourself in the hills of Dublin on a regular basis, this feels like pretty standard fare. It wasn't until I was later reading reviews of this album that I realized that the final track is a fiddly, unrecognizable interpretation of 'Eleanor Rigby' that is absolutely not recognizable just by listening to it. Reviewers have described it as 'god awful', but it does what a really good cover is supposed to to by reinventing the song. Maybe it reinvents it a bit too much, but in the world of weird Beatles covers, it fits pretty well as an obscure entry.
Like Gallagher and Gallagher Too, the band split apart and members took the two aforementioned alternate spellings of their name to continue to tour separately. This copy was signed by singer Eleanor Shanley to an unknown party whose name begins with an M. Unfortunately, the record has a bit of a curve to it that causes enough of a warble that some songs towards the edges are not really listenable, making this an incomplete package or music that doesn't really feel inspired or inspiring.
Keep or toss? Sorry, original autograph. I don't really have the room for generic folk music, but my girlfriend likes the cover, so this one hangs around for now. Just in a different room.
---
Jay Ungar & Lyn Hardy
Catskill Mountain Goose Chase
[1977]
This record took me down a rabbit hole I didn't expect, as it has connections to the weird, hidden little town in NY where I grew up : Putnam Valley. Jay Ungar, as it turns out, was a semi-local, and prior to this, performed in a band called the Putnam String County Band (aka the Putnam County String Band) alongside John Cohen, a longtime resident of my town, and a noted musician and photographer of some pretty well-known portraits of Bob Dylan… some of which were actually taken in Putnam Valley. Jay Ungar also provided the soundtrack to a 1992 documentary about a murder in western NY called Brother's Keeper, which I immediately bought on VHS.
The record itself is a raucous, clever hootenanny. The fiddle tunes on here are wildly energetic, made even more so in comparison to the similar songs on the De Dannan album, mentioned above. They're from different areas of the world, but it's pretty easy to hear the common thread; Jay and Lyn just handle them with greater interest, and this album is a doorway into a whole web of interesting musicians, bluegrass, and local connections. And more than anything, it's enjoyable. Covers and originals are handled with equal greatness, their skill is undeniable, and I'm charmed.
Keep or toss? This is a keeper. I've sold or gotten rid of records by local musicians before, and I've regretted it. This is a great listen, even without the provenance. Plus, it'll look great next to Ambergris and Christopher Cross' Another Page in the 'close up pictures of birds' album cover collection.
---
Neal Hefti
How To Murder Your Wife : Original Motion Picture Score
[1965]
I'm generally not a soundtrack guy, but Neal Hefti is responsible for one of the greatest TV theme songs of all time : Batman. If you're not a nerd, he also did the theme song to The Odd Couple, and a pretty wide range of movie soundtracks, in addition to recording a ton of jazz albums, eight of which were with Count Basie. I'll pick up anything with Hefti's name on it, even though I'm only now digging deeper into his collection.
I'm not a 1960s dark comedy guy either, but this soundtrack is fun enough to inspire me to get the movie from the library. Upbeat, truly 1960s stuff with just a couple of songs with lyrics, it feels like a cool Sunday drive, even more so when it gets especially jazzy. You wouldn't even know you're listening to a comedy soundtrack. It's a very common album and it's not hard to find this music, but it's a discovery nonetheless in 2021.
Keep or toss? It's Neal Hefti. I'm keeping it, and seeking out other films he composed the soundtrack for. Oh Dad, Poor Dad, Mamma's Hung You in the Closet and I'm Feelin' So Sad seems like it'll be an especially fun hunt down a rabbit hole of obscure media.
---
Bill Conti
For Your Eyes Only Motion Picture Soundtrack
[1981]
There's not much to say about this soundtrack that hasn't already been said, so I'm just going to observe that this isn't how butts work, and we'll move on.
Keep or toss? If I want to listen to this, I'll just get the mp3s. The record is a little warped, and it has a few gnarly lines across it. Actual garbage.
---
Richard Strauss / Zubin Mehta & the Los Angeles Philharmonic
Also Sprach Zarathustra
[1968]

I think I hit a rich vein of soundtrack albums, even though this one was obviously not conceived of as a soundtrack. Most sci-fi nerds will recognize this Strauss piece as that song that appears in 2001: A Space Odyssey, and no doubt this was released the same year as the movie to capitalize on that, complete with an outer space cover. It's not the same recording as the one in the movie, which was performed by the Vienna Philharmonic, who released their own 1968 album with an even cooler space cover. Many previous versions of the piece were re-released to coincide with the movie; the Chicago Symphony followed suit the same year, and in 1969, the Berlin Philharmonic joined. By 1970, pop culture classical was on full blast, with the Royal Philharmonic Orchestra, the New York Philharmonic, another version by the Vienna Philharmonic joining. Subsequent years were more of the same proliferation, when in contrast, not a single new version of this was released in 1965, according to Discogs.
If you're collecting cool space covers for this album, which didn't exist until 1968, you may want to find 1971's Chicago Symphony Orchestra version, the 1972 Philharmonia Orchestra's NASA photo cover, or the eclipse that the Philadelphia Orchestra released that same year. 1974's Concertgebouw-Orchester has a neat asteroid thing, and the Dresden State Orchestra has a whole dang galaxy. The list goes on like this for a while, and it makes up its own sub-collection.
Conductor Zubin Mehta would later go on to appear as himself in the 1986 film On Wings of Fire, which explored the history of the Iranian prophet Zarathustra, so everything really came full circle. But this album in particular exemplifies how a pop culture influence can really bring something back to life, and then completely change the public's perception of it. Would most people even be able to guess what's on this record without seeing outer space on the cover, even though the music itself has nothing to do with space?
Keep or toss? Undecided. Space covers always have a place in my home, but the music itself isn't mysterious or rare.
---
Pousette-Dart Band
s/t
[1976]
We probably picked this one up because the cover was horrifying, and it was worth digging into exactly why someone would choose a Joker-like mime to represent their band. Turns out that the mime in question is Trent Arterberry, a friend of band namesake Jon Pousette-Dart, and he'd appear on the cover their second album, Amnesia, and their fourth and final album Never Enough, so this was not some one-off mime. This was a conscious decision that happened again and again, even though this guy looks like he's about to poison Gotham City's water supply.
Jon is the son of notable abstract expressionist painter Richard Pousette-Dart, whose painting 'Bird Woman' was later used for the Pousette-Dart Band's greatest hits album, and his sister is also an abstract expressionist. Jon left the family trade to pursue yacht rock and share his love of clownghouls.
The album itself? Country yacht rock, but surprisingly pleasant, and very listenable. It may feel a little like a doctor's office waiting room, but it's an atmosphere of calm, elevated a bit by songs full of key changes and real artistry. I don't completely know what to make of it but that's probably a good thing.
Keep or toss? It's good enough that I put a copy on my computer, so it's probably good enough to keep around. It's never been released on any for of media more advanced than a cassette, so that's another bonus.
---
That's ten albums down, and hundreds left to go, but quarantine is long, and records are only like 40 minutes, right?
---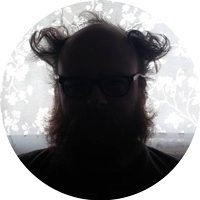 C. David
is a writer and artist living in the Hudson Valley, NY. He loves pinball, Wazmo Nariz, Rem Lezar, MODOK, pogs, Ultra Monsters, 80s horror, and is secretly very enthusiastic about everything else not listed here.